Bigfoot Days
August 30, 2014
Humboldt County, California
Humboldt's hairy hominid returns for a festive homecoming to the town where his legend began in the town where the famous Bigfoot footage was filmed in 1967
Parade on Saturday – Main Street – begins 10am
This event includes food & craft booths, oyster feed, deep pit BBQ, logging contests, a petting zoo, kids bike race, lawn mower race, disc golf tourney and big ice cream social with homemade pies, cakes and cobblers at the town museum, which houses the world's largest collection of Bigfoot curios.
The hominid happening will offer plenty of live music
Bigfoot often escapes to the nearby mountains, especially around Willow Creek, which is where the first so-called Bigfoot was encountered in 1958, and where the famous Patterson-Gimlin footage of a walking Bigfoot was filmed in 1967. Today Willow Creek is home to the largest Bigfoot museum and the largest annual celebration honoring the big fellow, Bigoot Days over Labor Day weekend.
© 2014 Official website of the Humboldt County Convention & Visitors Bureau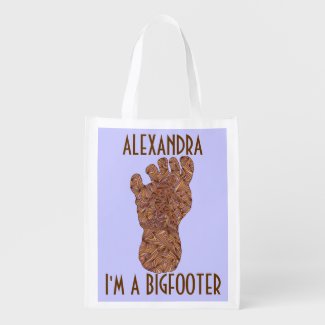 Sasquatch Cryptid I'm A Bigfooter Personalized Bag Market Tote
by
TheArtOfVikki
Shop for another
grocery bag