Easter. A time of Spring, pastel colors and delicate flowers. But for those people who aren't into pastels and flowers, here are some Easter designs that are more neutral or on the other end of the spectrum, very brightly colored.
First up is a faux wood texture style Easter bunny and Easter eggs. Shown on a tote bag, an Easter brunch and egg hunt invitation and a paper plate, this Easter design in brown and redwood tones is a more neutral choice for your celebrations. Easy to personalize, these fun Easter bunny items can be mixed and matched with more traditional pastel colors if you like for a beautiful Easter dinner, Easter themed birthday or Easter egg hunt.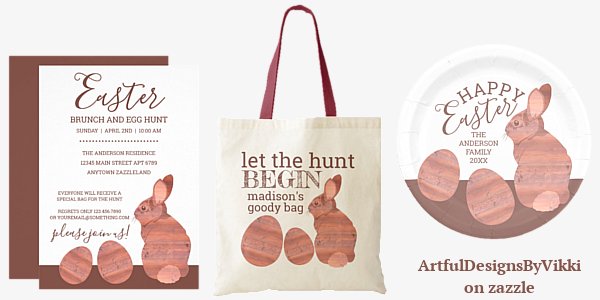 ArtfulDesignsByVikki Wood Look Easter Bunny And Easter Eggs On Zazzle
Next up is a collection of brightly colored bunnies and eggs in an abstract style design. Displayed on a paper plate is a blue rabbit in vivid hues with purple, pink and green eggs. A bright pink bunny with green, purple and blue Easter eggs is shown on an Easter themed birthday invitation and finally, a neon green Easter bunny with purple, blue and pink eggs is displayed on a personalized Easter egg hunt bag. The colors are bright and the rabbits are not too sweet which makes these designs suitable for both adults and kids.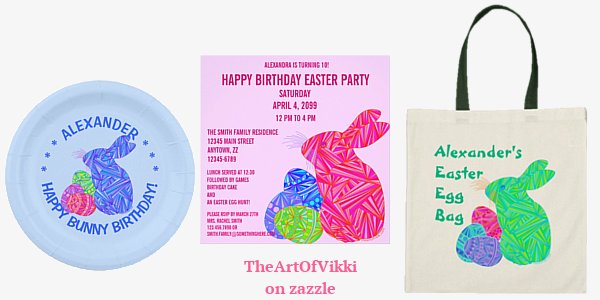 TheArtOfVikki Bright Blue, Pink And Green Easter Bunnies And Easter Eggs
Not everyone is into pastels and flowers and that's okay. Choose something different for Easter that reflects your own personality, be it more neutral or brightly colored, for holiday decor that is one of a kind.