Pampas grass for weddings. It's hot. This non-floral trend has been gaining admirers in past years and is now a favorite among brides looking beyond typical flower arrangements. From bridal bouquets to wedding arches and table decor, pampas grass is a beautiful alternative to the standard roses and such and is on trend for 2019.
Frothy, billowy and totally not your typical floral, pampas grass is a contemporary way to incorporate foliage into your wedding decor. Foliage is definitely having a moment and grasses have their own subcategory. Pampas grass, officially known as cortaderia selloana, is known for it's height and billowing stalks and is on trend as a neutral pick for your wedding ceremony. From backdrops to tablescapes, this non-floral adds a touch of nature and charm when used alone or in arrangements with traditional flowers.

ArtfulDesignsByVikki Pampas Grass Wedding Invitations On Zazzle
Some species of pampas grass have stalk blooms that are so full they resemble ostrich feathers and are sure to make a statement when incorporated into your wedding decor. Coordinate your foliage choice with complimentary wedding stationary that picks up on the pampas grass theme. Wedding invitations, envelope liners and RSVP enclosure cards designed with a pampas grass motif will set the stage for your beautiful neutral and natural theme.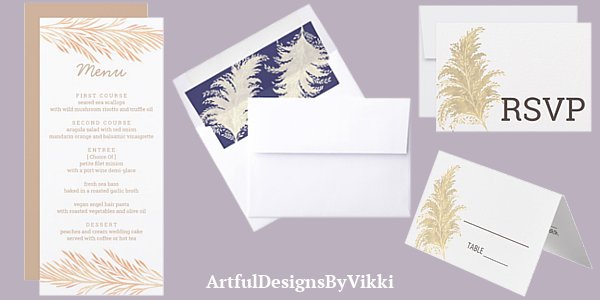 Pampas Grass Motif Menus, Envelope Liners, RSVP Cards And Place Cards
Round out your wedding planning with pampas grass menus, table place cards or escort cards, programs and even paper napkins and plates for more casual wedding receptions. Whether you choose natural grasses or a colored species to coordinate with your wedding colors, this beautiful addition to your decorations will set the tone of natural elegance for everything bridal on your celebration day.
From a bohemian wedding to sophisticated country, modern rustic or as touches to soften an industrial urban theme, incorporating pampas grass into your wedding decor is a winning choice for almost any bride. The pampas grass trend for 2019 looks to continue to grow in the future.