I recently added Spoonflower to my roster of Print On Demand shops and I have been having quite a lot of fun playing with surface design and creating specialty fabrics. Spoonflower primarily sells one of a kind fabrics designed by independent artists but they also carry the same surface designs on wallpaper and wrapping paper, which is sure to make crafters happy.
While researching Spoonflower prior to opening my store, I stumbled on an Etsy forum discussion where people were assuring each other that they are not allowed to sell anything in their Etsy shops that were made using Spoonflower fabrics, because of artist's copyrights. I almost wished I had an Etsy account just so I could jump in and explain that this is not true! I think these lovely Etsy folks were being super respectful of copyrights, which is a breath of fresh air compared to what most artists encounter these days. The fact is, if you purchase fabric from anywhere, including Spoonflower, you have every right to sew a bag or a dress or a scarf, and then sell it. You bought the material, the artist/designer was paid, go have fun with it. What you *cannot* do is steal the artist's design and sell it on fabric or a pillow or a card, even if you printed or sewed it yourself. I really appreciate the Etsy people being so careful of fellow artists, but if anyone out there reads this and can get back to the Etsy sellers, please tell them I would be super happy if they purchased fabric from my Spoonflower shop, sewed a tote bag or doggie bed using said fabric and then sold the new creation in their Etsy store!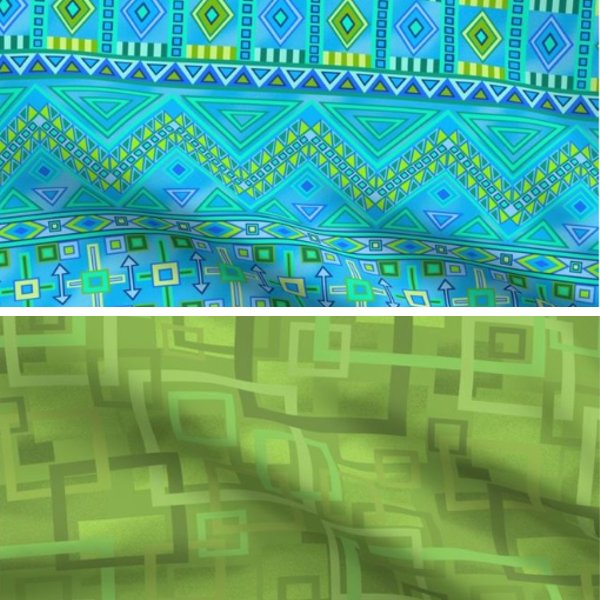 Spoonflower has weekly surface pattern design challenges that are super fun. I have entered a few and these contests have helped push me out of my comfort zone. Artists can get a bit too comfortable staying in a particular genre or medium, and while I am very happy when I find a rut that I like, it's good to spread those wings and see what happens.
The one and only downfall I see about Spoonflower is that a designer must proof each design before it can be sold, and that costs money. Starving artist and all that. While I have a handful of designs proofed and available for purchase, I hope to add to the current selection in the very near future.