Zazzle has just announced the addition of the new metallic foil ink print process on greeting cards and it's very exciting! Real foil printing opens the door to customers who crave real shine and bling now being able to purchase one of a kind custom and personalized cards printed with real "sleek foil".
It's not hard to understand why all my weekend plans were thrown out the window when Zazzle metallic foil was announced late on Friday. I was beyond thrilled to design these new greeting cards and shelved all other projects so I could dive right in. In my Artful Designs By Vikki shop, I started with the holidays. I created new high contrast black and white gray scale graphics to work with the design tool filters and technology. Christmas trees, Menorahs and snowflakes, oh my!
These new foil cards are too much fun. I ran the gambit from Hanukkah to Christmas, Holiday typography to Chrismukkah, and threw in a 50 And Fabulous card for good measure. One of my first designs was "Joy To The World" in silver foil on white with modern polka dots. I was feeling out the design process when I created this card. It's on the large 5″ x 7″ horizontal size, includes a photo template so the customer can replace it with their own family portrait and two text templates inside; the greeting "Joy to the world The Lord has come!" and an optional signature line to imprint the family names. The outside is a jumbo silver JOY in a light grey shimmer circle surrounded by several more metallic circles in both the same light silver and the darker true silver foil. The bottom of the card has the line "TO THE WORLD" in a simple modern font. While it was actually the second personalized foil card that I made on the 29th, it shows as the last card in the batch. I made a last minute design change right before dinner Saturday night and re-made the card. You know how artists are.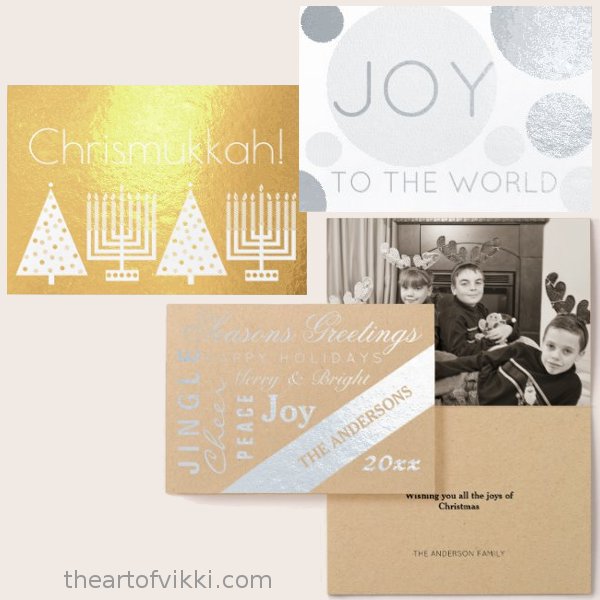 I have so many projects on my list right now but I can't stop designing these metallic greeting cards. It's not work, it's a joy. Every new card that I create inspires a new design just begging to come out. It's like when I was a kid and was presented with a new box of crayons or a new watercolor box. Zazzle, my dear Zazzle, I may need you to send over someone to dust because I'm having too much fun with the new real foil custom greeting cards.
If these foil cards look half as nice in person as the site previews indicate, these are going to be a big hit. The new cards some in three sizes, folded: 5″ x 7″ [greeting card] 4.25″ x 5.5″ [note card] and 3.5″ x 5″ [mini]. There are two metallic foil finishes, gold and silver, and the customer has the option to change a silver foil design to gold foil if they wish, and vice versa.
In addition, three paper types are offered in all sizes and the customer can choose their own paper:
Paper Type: Standard Matte
[17.5 pt thickness / 120 lb weight / 324 GSM]
Light white, uncoated matte finish with an eggshell texture
Paper Type: Premium Kraft
[18 pt thickness/ 125 lb weight / 338 GSM]
Kraft, smooth and refined vellum finish
Paper Type: Premium Grey
[16 pt thickness/ 130 lb weight / 352 GSM]
Neutral grey, smooth finish
I love how the silver foil looks on the Premium Kraft paper, and the gold on Premium Grey. The Kraft and Grey have a slightly higher price point but do look rich enough to deserve it. All these new metallic SLEEK FOIL cards are proudly made and printed in the USA, and in my case, proudly designed in the USA. If you find one of my holiday designs pleasing and choose it for your Christmas cards or Hanukkah greetings, I will be almost as happy as I was when I designed it.