Coloring Books For Adults
Wedding Fashion And Traditions: A Coloring Book For Adults
Stress Relief for Brides, Bridesmaids and Hopeless Romantics
While I was sketching out the rough outline for my first adult coloring book, The Classy Lady's Coloring Book [pub. winter 2017] the idea for my second book popped into my head: Weddings! The whole time I was drawing illustrations for Classy Lady I was simultaneously thinking forward to bridal designs and themes. Thank goodness my brain can multi-task.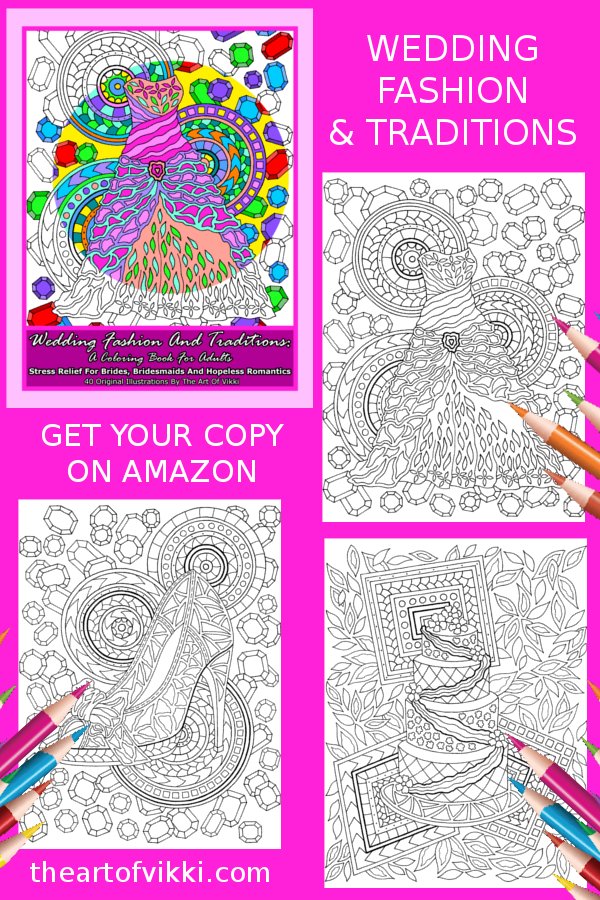 The wedding fashion part of the colouring book includes wedding dresses, bridesmaids dresses, fancy wedding shoes, a veil, a tiara [you know I love me a tiara] rings and wedding bouquets. Another selection of artwork is typography basked with classic wedding words in fanciful styles: Bride, Groom, Husband, Wife, Save The Date, Love, Mr. and Mrs. and the blessing Something Old Something New Something Borrowed Something Blue.
The remainder of the hand drawn illustrations run the gambit of wedding day. There's a church steeple and a floral wedding arch, the ring bearer's pillow and the flower girl's petal basket. There are hearts, wedding bells, rice and bubbles and two wedding cakes. One of my favorite drawings is Just Married and it's the back of an old fashioned car dragging a string of old fashioned cans with JUST MARRIED scrawled across the back window and LOVE for the license plate. It's not a fancy bit of artwork but it's so innocent and hopeful, just like a bride and groom on their wedding day.
A Unique Gift Idea For Brides And Bridesmaids
Wedding Fashion And Traditions: A Coloring Book For Adults is not only a perfect way to relax for brides who love to color, but it's also a fun gift idea for brides and bridesmaids alike. Create "wedding survival" gift bags filled with aspirin, bottled water, snacks, a split of wine, colored pencils or markers and a copy of Wedding Fashion And Traditions with a handwritten message inside the cover for each bridesmaid. Hopeless romantics will enjoy this grownup coloring book too, because you don't have to be planning a wedding to believe in love!
If you are hoping for an adult colouring book filled with realistic women and men modeling wedding clothing or gray scale images with the shading already done, this is not the book for you. My style is fanciful, whimsical and unique. I sketched each illustration on paper with pencil first, getting the design just right, then finished the final pieces by going over the lines using fine tip black Sharpie pens. I would die without my Sharpie pens! Each coloring page was then scanned and cleaned up in a graphics editor, but only a little. The lines are not perfect because this wedding coloring book is all hand drawn and totally original. I want that human touch to be included in each image that you colour. I hope you enjoy filling in these lines that I drew because I had a heck of a lot of fun creating them for you.