August saw the publication of my third coloring book for adults, Fanciful Mandalas, Flowers And Patterns – A Stress Relief Coloring Book For Adults, available on Amazon. Fifty hand drawn illustrations fill this square colouring book, ready for colored pencils and pens.
I think this is my best coloring book by far. I had a blast drawing the mandalas in particular, which is a design element I had never worked with before. As I wrote on one of my Instagram posts showing a progress sketch "drawing mandalas is like having a kaleidoscope open in my head!" I enjoyed the orderly layout of each geometric symbol, getting a circle just so or a curve exactly right and then repeating it all around the mandala. As I mentioned, everything is hand drawn so there was no computer assistance on these designs. This means that each section is not 100% exactly the same all the way around the illustration but I think that gives the drawings an authentic and charming feel.
Fanciful Mandalas, Flowers And Patterns is one third mandalas, one third flowers and one third patterns. The floral pages range from jumbo blooms to mosaics and my favorite, twisting vines that look over themselves among a riot of leaves and petals. When it came to the patterns, well, some are truly repeat style patterns like diamonds, arrows and tiles. The rest of the "patterns" are a little more free style with hearts, four leaf clovers and a groovy peace sign drawing that feels very retro.
Since this is my third adult coloring style book and I have ideas for at least a half a dozen more rattling around in my head, I do believe I have discovered a new love. I do put an enormous amount of pressure on myself when creating the artwork for these books, trying to get each line just right, but it's still  quite enjoyable. I am already pretty bad about forgetting to eat breakfast or even lunch when working, but when I am creating new coloring pages, it's even worse… I completely forget that I'm hungry.
These books take months to assemble. First I lay out the designs entirely in pencil and then go over the sketch using my trusty Sharpie Pen (fine) and have been known to rethink and rework an entire section while in the Sharpie phase. Essentially I am drawing each coloring book design twice. Then I scan them into the computer, clean them up as needed, then move on to the additional inside pages and then design the cover. Only when all of the files are ready can I upload them for publication.
It's a lot of work, but it's a true labor of love. I really enjoy creating a black and white illustration and then seeing one of the coloring hobby's colorists apply their creative touch to the drawing by adding their colors, shadings and highlights. I can't describe how cool it is to watch.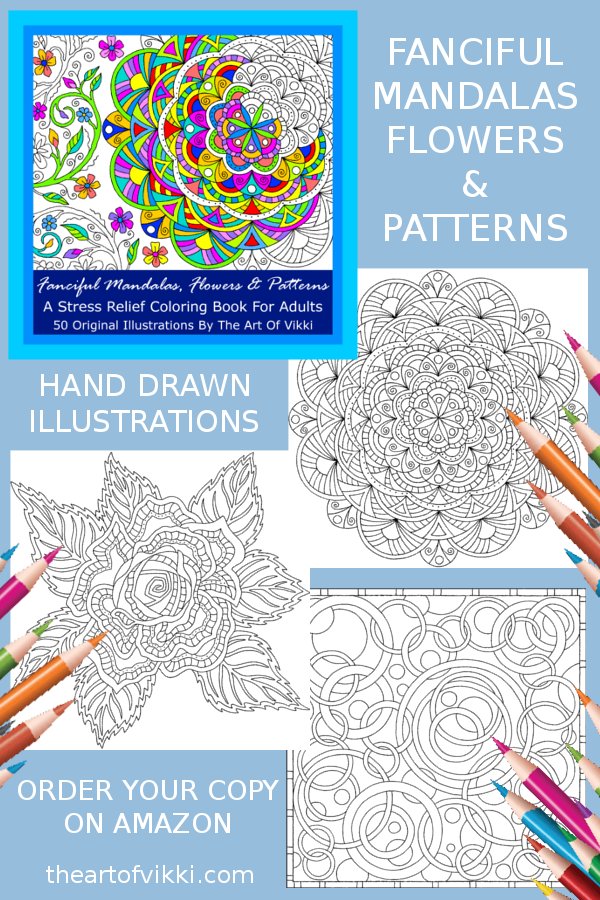 I hope you enjoy Fanciful Mandalas, Flowers And Patterns – A Stress Relief Coloring Book For Adults. If you are on Instagram and color one of my illustrations from the book, please post a photo of your masterpiece tagging @theartofvikki and use the hashtag #theartofvikki so I can see how you made my mandalas beautiful.