Let us ponder that question…
They're funny. That's pretty much the whole reason. I mean, animals don't wear sunglasses until humans put them on the poor unsuspecting dog or cat who was just sitting there, minding their own business. But once the sunglasses are on, that same puppy or feline often looks totally cool and rocks those shades.
Why? And how? How do they pull off that cool look? There are models and actors who work really hard to look that suave in a pair of sunglasses and still fail miserably. But then there's this lone cow out in Nebraska wearing a jumbo pair of reflector aviators and damn. Without even trying, that cow looks gooood.
It's the silly factor I reckon. Silly to put sunglasses on an animal and perhaps a bit of envy at how well they wear them that makes animals in sunglasses so popular.
So, I did my own version of animals in sunglasses art. The first was my cool llama created for a Redbubble contest. I used him as the basis for my Twitter Art Exhibit 2017 donation. Then it was time for a smiling llama and a pondering goat, decked out in bright red framed shades. Set on a stark abstract background of black and white, these two make an interesting pair on Curioos.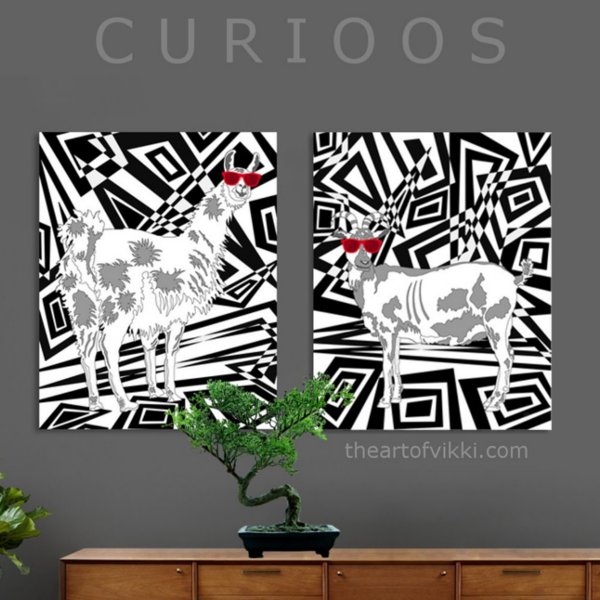 Shop The Art Of Vikki On Curioos
What do you think? Is it the silly factor? Or is it something about those hidden eyes that makes animals in sunglasses so popular. We may never know…