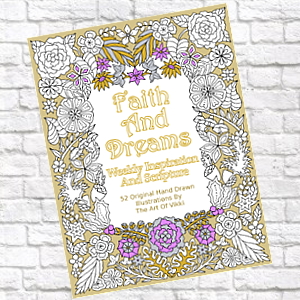 Faith And Dreams
Weekly Inspiration And Scripture

ISBN-10: 1727024974
ISBN-13: 978-1727024975

Available on Amazon.com

This coloring book has 52 unique hand drawn images, one per week, for an entire year of good vibes. A delightful mix of Bible quotes and general inspiration in a variety of open work text will lift your spirits and sooth your soul. 24 bonus sheets with decorative borders, two per month, provides room for Bible journaling or jotting down thoughts. Appropriate for grownups and young adults, Faith And Dreams is a one of a kind colouring book filled with pretty garden inspired artwork and a Christian theme which makes it a thoughtful gift at any time of the year.

Faith And Dreams is my fifth coloring book for grownups. I do hope you have as much fun coloring it as I did drawing it.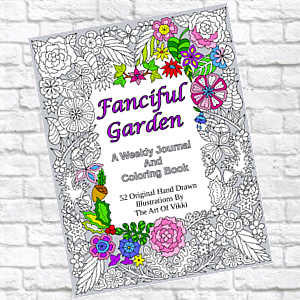 Fanciful Garden
A Weekly Journal And Coloring Book

ISBN-10: 1727023412
ISBN-13: 978-1727023411

Available on Amazon.com

Fanciful Garden is a weekly journal you can color. 52 hand drawn designs have extra space for diary style entries, bullet journaling or really cool backgrounds. There are 24 bonus pages, two per month, which provide additional space for your hopes and dreams amid the fanciful borders. Perfect for young adults and grownups, this colouring book is a mix of original garden inspired drawings - trees, birdhouses, butterflies, fancy fences and mushrooms with a few critters here and there are just a taste of the hand drawn artwork inside.

This is my fourth adult oriented coloring book. I absolutely loved drawing this one. Have fun!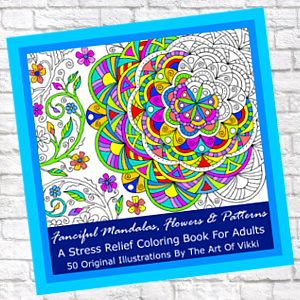 Fanciful Mandalas, Flowers And Patterns
A Stress Relief Coloring Book For Adults

ISBN-10: 1974175170
ISBN-13: 978-1974175178

Available on Amazon.com

Coloring is fun, coloring is art and yes, coloring is for grownups! Relax and unwind with this original adult coloring book with a mixed theme of mandalas, flowers and whimsical patterns. 50 hand drawn illustrations fill this coloring book for adults that can be colored in your lightest pastels or your most vibrant neon colors. Makes a unique gift for the serious colorists and the smaller 8 1/2" x 8 1/2" size makes it a relaxing addition to your travel gear. The designs are fairly intricate but larger spaces leave room for fun with glitter pens and a variety of coloring techniques.

Fanciful Mandalas, Flowers And Patterns is my third coloring book for adults. Color it beautiful.