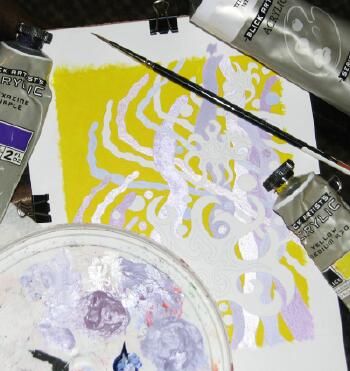 This is my postcard in progress as my entry for the Third Twitter Art Exhibit.
I woke up very excited this morning! Couldn't wait to get back to it.
I am not used to painting in such a small scale. When working with my preferred medium, acrylic paint, my favorite canvas size is 16″ x 20″ or 11″ x 14″. Sizing down to 6 inches by 4 1/2 is a learning experience.
Oddly enough, I am enjoying this scaled down paper canvas with my tiny brush. Which just goes to prove that moving out of one's comfort level can often be a moment to embrace.
I so desperately want this to be good. So it will sell. But not for me. This one is to help someone else. All money raised during the exhibition will go to Art Division, a nonprofit (501)(c)3 organization dedicated to training and supporting underserved youth (18-25) in L.A.'s Rampart District. I want this little postcard to be good enough to raise money to fund Art Division. I NEED this little postcard to grab someone's heart so together we can perhaps heal a young artist's soul.
If you haven't heard about The Twitter Art Exhibit yet, check out the official website http://twitterartexhibit.org/                                                                 Art+Talk Interview with #TwitterArtExhibit founder David Sandum