This is the story of a unique collaboration between Zazzle Inc., Ubuntu Made and artists around the world.
Ubuntu Made is part of the non-profit Ubuntu Life which began as a friendship between Zane Wilemon and Jeremiah Kuria, a Kenyan minister in a small town on the outskirts of Nairobi by the name of Maai Mahiu. That friendship blossomed into a venture that included a cafe, a farm with organic produce, clinics, a special needs school and a sustainable accessories line. The accessories line, hand crafted by members of the Maasai tribe, resulted in collaborations with brands such as Whole Foods, American Eagle and now Zazzle, and is now on track to turn Ubuntu into a full-fledged lifestyle brand. With the Zazzle partnership, the Maasai are creating items that will be turned into high end personalized gifts and keepsakes.
This summer, they're re-launching themselves in a new light. Undergoing a rebranding process: the non-profit which was once called CTC International is now Ubuntu Life, and the accessories line, Ubuntu Made. Their wares includes bags, clutches, iPhone covers, bandanas, bangles, and keychains. Plus, wine bottle carriers (which cheekily read, "Save the Wino") and mug holders are sold at 450 Whole Foods stores in the country. Silicon Valley-based Zazzle, a marketplace for handmade items, partnered with the African non-profit to introduce their new line of iPhone covers, bags, and keychains. Ubuntu provides the locally-sourced leather; Zazzle can customize it with images and text, etched directly onto the leather. – Forbes.com article
When Zazzle first announced it's new Zazzle Heart 2.0 "The Adventure Collection" I was immediately inspired by the story behind the new products and wanted to make something special for this unique line. I thought of "Cat Jobs" which was my postcard donation to the Twitter Art Exhibit in February. That postcard art sent to New York City was my first tribal style cat and I had always planned on someday creating more tribal style animals because the #twitterartexhibit donation had turned out so well. I had the feeling that the laser-etching process being used in The Adventure Collection would work beautifully with the tattoo art style, so I eventually sat down and did another sleeping cat. I was right. The brand new version of my tribal cat drawing looks so cool on the Ubuntu Made products!
The Adventure Collection currently consists of seven exclusive products: a leather key fob, leather iPhone 6 pouch, leather travel bag or clutch purse, a leather journal, a classic leather tote bag and two waxed canvas items, a travel journal and a carry-all tote bag. I have designed all seven Ubuntu Made products with my sleeping tribal cat artwork and included a text template on each one, making it easy for customers to add a name and create a unique personalized gift for him, although the Name Here option can also be removed from the items if one prefers a design only product. These leather and canvas goods make fun and thoughtful personalized gifts for cat lovers of all ages.
Every product in The Adventure Collection is handmade in Africa, from the hand-cut leather and hand-sewn stitching to the beadwork. It's then finalized right here in Silicon Valley, where Zazzle has engineered a first-of-its-kind laser-etching decorating process specifically for this collection. From Africa to Silicon Valley to you, it truly is a revolution in the making. Our hope for this collection is that everybody who takes part in it feels the same inspiration and emotion that we did in creating it — the connection to wonderful people in Kenya who crafted these products with love, by hand. – Zazzle Heart Team
After I created the Ubuntu Made cat lover products, I thought to myself "Oh wow, a tribal horse, yes!" even though I had a million other things on my slate of stuff to do. When an artist feels a calling to create, everything must be dropped. So on Tuesday I sat down to sketch and by mid-afternoon on Wednesday the graphic file of my tribal style trotting Arabian horse was ready to go. As I rotated through the roster of products, adding the prancing horse to each, I smiled because once again, I was right. The Adventure Collection tribal horse looks smashing, if I don't say so myself. Easy to customize as a personalized gift for her, I once again included the add your name option to each of the seven items. The two tote bags and the travel pouch/clutch bag in particular turned out lovely and would make a fashionable equine themed personalized gift for horse lovers of any age.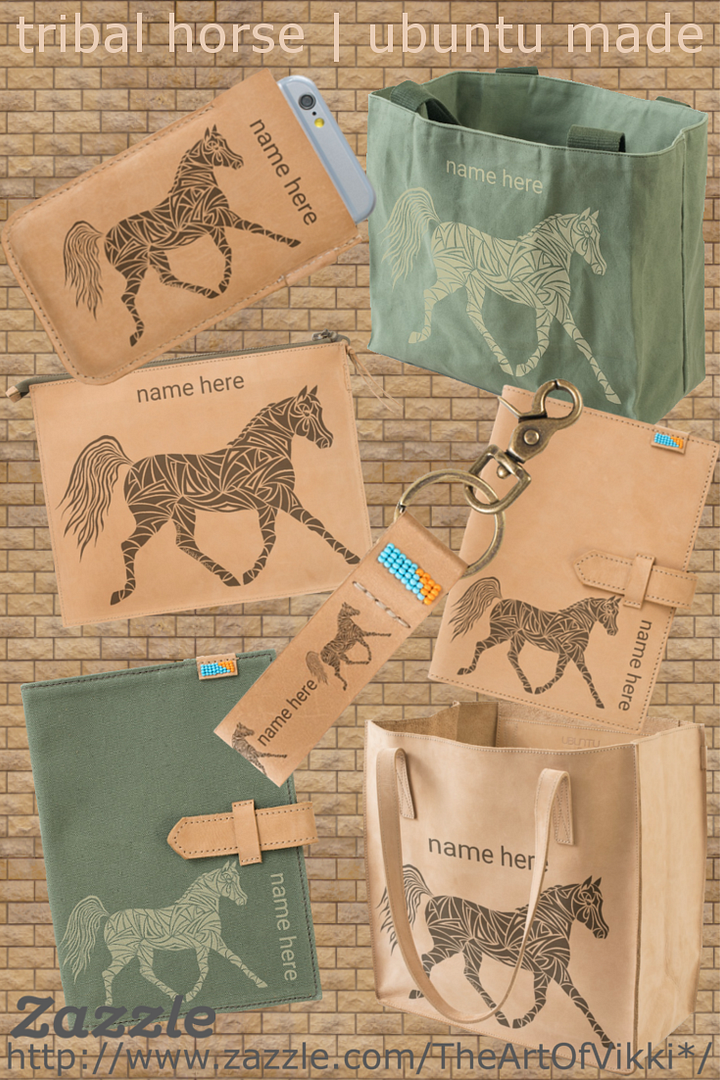 When you visit my Zazzle store, just go to the Animals category and from there you can find cats and horses and within those sub-categories the tribal versions of each decorating these one of a kind Ubuntu Made products. As an artist, I feel blessed to have the opportunity to participate in this collaboration between Ubuntu Made and Zazzle. Whether its a treat for yourself or a personalized gift for someone special, these unique leather and canvas goods created by members of the Maasai tribe in Africa and decorated by Zazzle in California with my artwork from the East Coast are not just beautiful but also have a special back story that just feels really good.
Our mission here at Zazzle is to give people everywhere the power to make anything possible — including a better life. That's why we are so humbled to announce our latest product launch: The Adventure Collection, a unique collaboration with a one-of-a-kind organization called Ubuntu. Based in Kenya, Ubuntu is empowering women to achieve financial independence by teaching them the skills they need to become makers themselves. Through job creation, Ubuntu is building stronger, more sustainable communities and we're inviting you to be part of this amazing effort. – Zazzle Heart Team