Redbubble has introduced a slew of new products in 2019 and among my favorites would have to be the new throw blankets. I love them. With allover full color printing and three sizes to choose from, these unique throw blankets make super cuddly gifts and are the perfect way to add a pop of fun to almost any room.
Inspired by the new throw blankets, I updated the monogram and decorative letter designs in my Redbubble Shop and created monogram bedroom vignettes for unique personalized home decor and college dorm rooms. I could dive into any of these beds, they look so warm and inviting.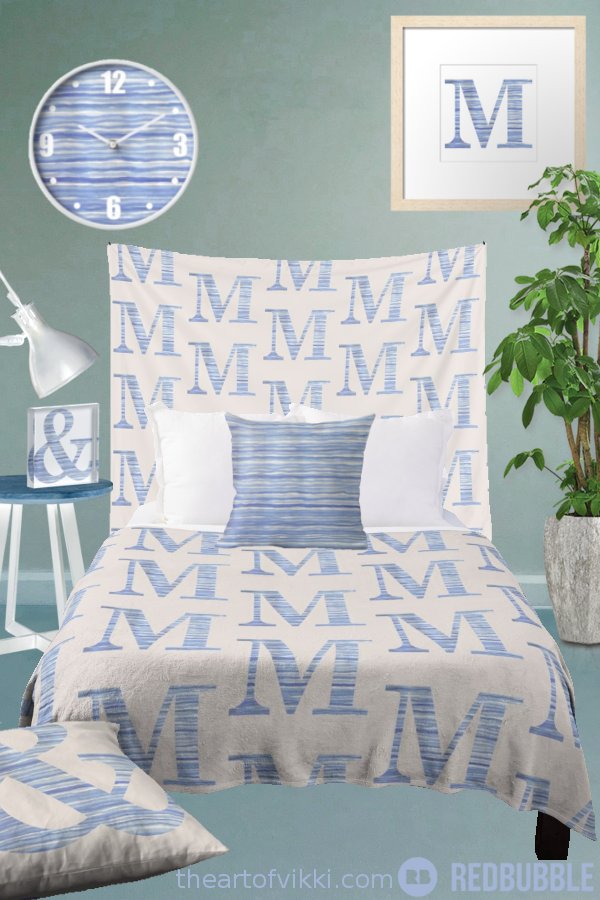 The Blue Watercolor Stripes Monogram collection is a mix of items with my blue and white decorative letters and items with the original watercolor stripes pattern. For instance, you can mix and match my original watercolor artwork in the wall clock and pillow as shown, paired with the monogram throw blanket, floor pillow, wall tapestry and framed art. Add the acrylic block as an accent and your new bedroom will have a personalized touch without being overwhelmed by monograms.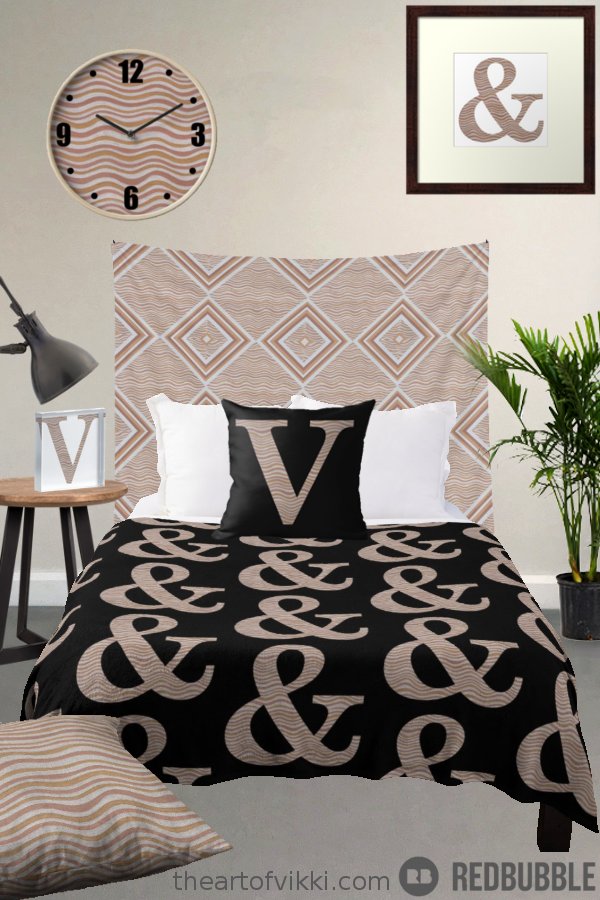 Sometimes you need to think outside of the box, especially with diy college dorm ideas and projects. Use the hanging wall tapestry as a faux headboard in your dorm room, the large floor pillows as extra seating, maybe sew some tapestries together to create a hanging room divider. All letters of the alphabet are currently available in all of my colorful monogram designs, along with the & ampersand symbol, so you can mix and match the ampersand into your room decor as another accent.
When you are looking to add color to your dorm room – or bedroom at home – along with a custom designer touch, my monogram bedding and home decor products will add that distinctive splash of style. I also have a black and white wreath style alphabet collection, inspired by my coloring books, with an almost vintage feel that works well in a monochrome design theme. Bonus points if you color in the design on an additional piece of wall art to add a coordinating pop of color and unique customization to your space.
So wander about in my Redbubble Shop awhile to see all the monogram bedding, from the new throw blankets to duvet covers and pillows, and mix and match them with the original stripes and patterns, then add coordinating accessories and custom products to create your perfect bedroom or warm up your new dorm room and make it cozy and welcoming.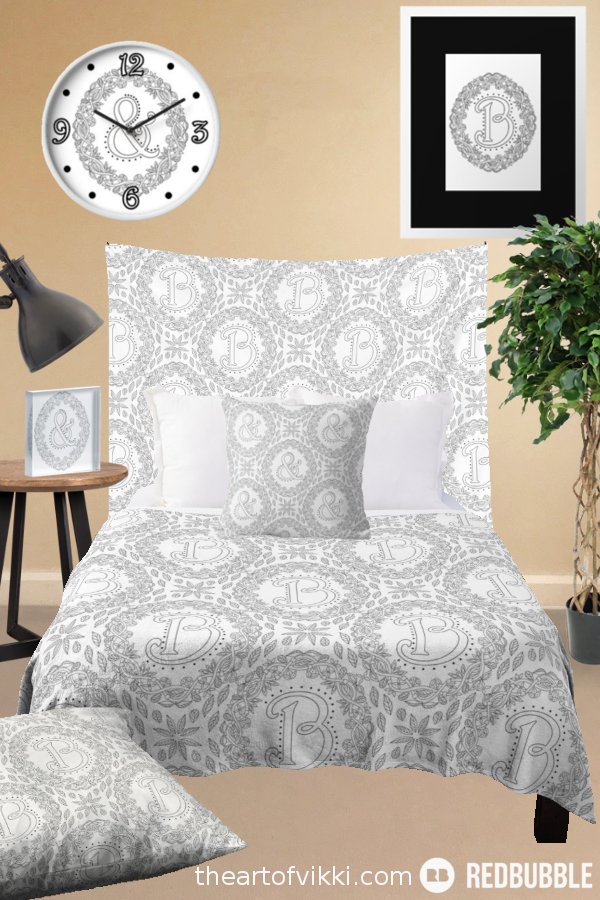 ABOVE:
Blue Watercolor Stripes Monogram Bedroom
Metallic Strips Monogram Bedroom
Black And White Wreath Monochrome Monogram Bedroom
Each bedroom mock up contains products available at Redbubble :
The New Throw Blanket / Throw Pillow / Floor Pillow / Wall Tapestry / Framed Wall Art / Clock / Acrylic Block
Actual sizes may not be exact as represented in the insitu pictures – they are meant only to give an idea of how to mix and match the different products and designs to create your one of a kind sleeping space filled with your own personal style.